Zero waste initiatives are growing around the world, and this trend is on track to be the biggest disruption in retail and FMCG. As we will see here, packaging-free stores, e-commerce services, and manufacturing, are on the rise – creating beautiful and distinct solutions that help consumers feel good about themselves.
The change is happening for some very obvious reasons – such as regulation, big retailers and manufacturers' commitment for reducing waste, and the increasing awareness of waste's effect on climate change, health and livelihood.
Governments, on all continents, have responded to public concerns regarding packaging waste, especially single-use packaging waste, and are implementing regulations to both minimize environmental waste and improve waste-management processes
Per Nestle CEO, Mark Schneider: 
Plastic waste is one of the biggest sustainability issues the world is facing today. Tackling it requires a collective approach. We are committed to finding improved solutions to reduce, reuse and recycle. Our ambition is to achieve 100% recyclable or reusable packaging by 2025.
In Schieber Research, we believe that relative to other market education initiatives, the Zero Waste trend will meet a willing consumer. This is in opposition to other behavioral changes with huge environmental impacts, like the move to plant-based eating. In this post, I want to talk about one aspect of zero-waste targets – reducing packaging at the retail level.
Let us assume that most people are unwilling to adopt green behaviors that demand a sacrifice (time, effort, indulgence), and that we have to look beyond the "core green consumer" to create a significant movement (and as well analyzed by HBR, market education at the brand-level has to be carefully executed here). When it comes to trash, people simply don't want more of it. It is burdensome. Recycling, and throwing out packages, is something that takes a toll in a busy life, and something you can see with your own eyes, as well. At the same time, "zero waste" retailers, be it online or physical, create a sexy, retro-feeling experience, which helps shoppers feel good about themselves and find comfort and reassurance in a sacrifice-free deed.
Around the world, many retailers are tackling the packaging-free challenge but some lack a systematic view of the issue (for example, Whole Foods' solution of scooping from bulk bins into disposable plastic containers is hardly a real solution, as opposed to refillable glass container). While plastic reduction was often the first target in zero-waste programs (see this report by Greenpeace on UK supermarkets' strategies in this regard), some retailers do execute a holistic approach to packaging-free shopping – here are some examples from around the world:
In the UK, Morrison's launched a "Bring you own container" initiative for fish and meat. Waitrose then launched Unpacked, and following successful pilots, the retailer decided to expand the program.
(pictures – Waitrose)
In Switzerland, Nestle is trialing refill solutions at it brand stores: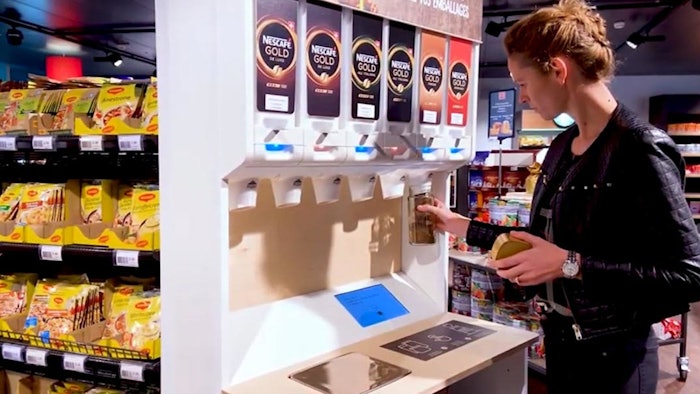 (source: Packworld)
And premium personal care retailer, Lush, launched packaging-free stores in Asia and in Europe:
Local shops are finding it easier to create a holistic solution. For example:
Gram, Melbourne, Australia – a "bring your own packaging" concept (or buy jars)
This change is more acute and pressing than ever in e-commerce, where on top of single-use packaging, mountains of packaging materials accumulate. Some companies are taking note. Take Zero, a new grocery e-commerce company focusing on zero waste. Through Zero, you can order your groceries online and have them delivered; when done – return jars.
It will be hard for zero, by itself, to create a change, as it will not reach the masses anytime soon. But there are so many other e-commerce companies who tell shoppers – please note that we took the following actions to reduce our environmental impact. Just Salad's recently launched Meal-Kit service, House Made, is a great example:
This may seem insignificant at the small start-up level, but as more and more start-ups focus on zero-waste, whether in grocery or in any other category, the more shoppers will ask for a very good reason why the Amazons and Walmarts of the world still leave them with a mountain of bags and plastic packages. And when these retailers start demanding less packaging of suppliers, and when they create a minimum shipping materials policies, there will be no way back: consumers who didn't "see" packaging before, will be unable to un-notice it now.
We will however have to discuss branding. The packaging shape, label, size, color, message, usability, all have a great impact on consumers' brand perception, willingness to pay and loyalty. It is harder to tell a story and convince the shopper to pay more for a product in the point of sale when the packaging does not tell a story. However, there are many ways around this issue, from re-using packages, to designing better bulk bins, to using digital (including ESL – Electronic Shelf Label) to tell a story.
TerraCycle's Loop, which is expanding in the US, is the leading cross-industry solution. It offers solutions to the branding issue, but more importantly, to operational barriers such as retailer-manufacturer synchronization, loop-closing logistics to allow re-use and re-filling (sanitized packaging), and costs of picking-up for re-use in case of e-commerce shipping.
Kroger, for example, has partnered with Loop, as did Walgreens, to offer brands by Nestle, P&G and Unilever. "Products available on the Loop platform are packaged in reusable glass or metal containers and are shipped directly to consumers in a specially designed tote. Once used, products are retrieved through a free at-home pickup, then cleaned, refilled and reused."
UK's Tesco has also partnered with Loop.
France's leading supermarket chain, Carrefour, even started utilizing Loop in-store:
(source: Packaging Europe).
Through Loop, manufacturers are able to use their packaging as a communication tool – and tell a story of sustainability. The appeal of the packages materials can further support a premium positioning. More than anything, these packages are cute and attractive. And since they have a story to tell, and a "feel good" factor, it's probably a matter of time until we see the "Return of the Milkman", but at a whole other level – something we predicted already back in 2015.
Nestle's coffee and chocolate drinks, Haagen-Dazs:
Bottom line, we believe that consumer demand which will create a competitive advantage for first-moving companies; regulation; and the offsetting packaging-free costs, will create a strong incentive for companies to create a zero-waste retail environment. Any retailer or company who does not have a plan for a packaging-free future should do this at their own peril.